A Taste of Togetherness at Rebak Island Resort & Marina Langkawi
Diwali is the beautiful festival of lights, and everyone celebrates it with great joy and enthusiasm. There is nothing like the feeling of being a part of this vibrant occasion and enjoying the traditional foods that are prepared and shared with loved ones. The delectable array of culinary options available during this time is a reflection of the rich culture and heritage of this festival.
Each dish has a unique flavor that takes you on a flavourful journey- from the savoury to the sweet, every bite is a treat. Some of the most mouthwatering dishes include sweets like gulab jamun or rasgulla, or savories like samosas, pakoras, and more. Let us take you on a culinary journey through the flavours of Diwali, and you can experience the joy and celebration that this festival.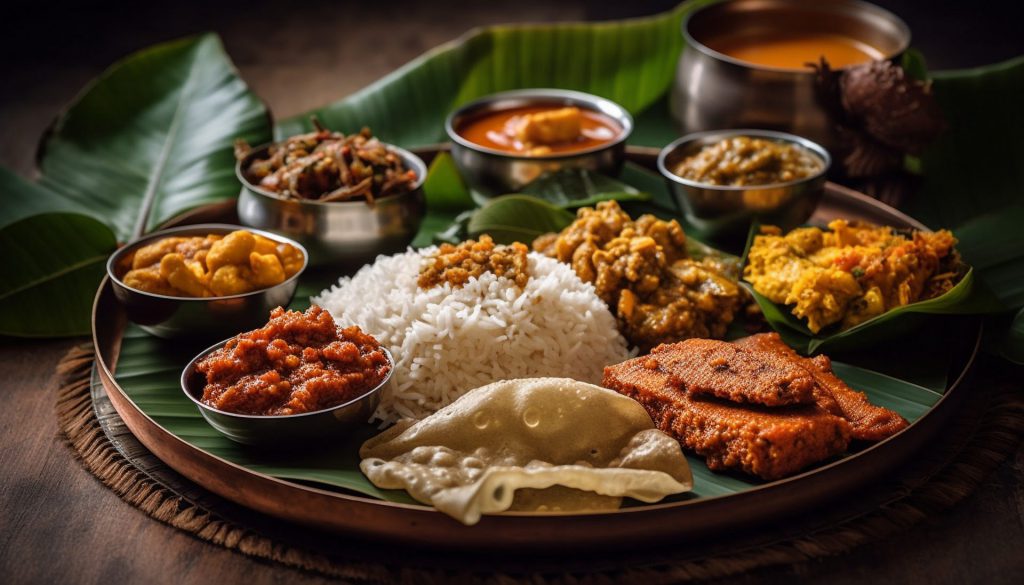 Try Achari Jingaa for a burst of tangy and spicy flavors! Juicy tiger prawns are delicately marinated in aromatic spices and pickles, then grilled to perfection. Achari Jingaa offers a delightful combination of textures and a unique experience for seafood lovers.
Try this:
Enjoy the rich and fragrant Lamb Paratal- slow-cooked with aromatic spices like cloves, cardamom, and cinnamon. Tender lamb pieces melt in your mouth and are served alongside fluffy parathas. Perfectly balancing comfort and indulgence, this traditional dish will make your taste buds dance with joy.
Experience the bold and fiery taste of Chicken Chettinad from Tamil Nadu, India! This dish boasts succulent chicken pieces cooked in a spicy and aromatic masala, with freshly ground spices such as black pepper and fennel seeds. The addition of coconut and curry leaves adds freshness and fragrance, making it a delightful meal for those who enjoy a bit of heat in their food.
Aloo Gobi is a classic vegetarian dish combining potatoes and cauliflower cooked with a blend of spices that is both comforting and light, perfect for those who appreciate simple yet flavorful cuisine.
"Imagine golden-brown fried dumplings with a sweet burst of flavor, soft texture, and hints of rose water and cardamom. The syrup-soaked treats leave a lasting impression."
These dainty, deep-fried spirals of delight have a charm all their own. Just imagine the captivating sizzle as they touch the hot oil, transforming into golden strands of pure deliciousness. With a tantalizing crunch, the Jelibies reveal their secrets, offering a delicate balance of sweetness and a hint of savory notes. These intricate treats are perfect for sharing with loved ones as you immerse yourself in the magic of Langkawi's cuisine.
This traditional Indian dessert is a delectable rice pudding that combines the richness of coconut milk, the sweetness of jaggery, and the delicate aroma of aromatic spices. Each spoonful reveals a harmonious symphony of textures – the smoothness of the velvety rice, the gentle crunch of roasted cashews, and the subtle burst of plump raisins. Close your eyes and savor the comforting warmth that envelops you, transporting you to a place of pure bliss.
diwali delights at rebak island resort & marina langkawi
Indulge your senses with the exquisite flavours of authentic Indian cuisine, expertly crafted by our esteemed Indian Chef, Deep Singh.
From the scrumptious Banana Leaf Lunch to the tantalising Deepavali Eve Buffet, every dish is a masterpiece that will transport you to the heart of this joyous celebration.
Gather your loved ones and embark on a culinary journey that will leave you with lasting memories. Don't miss the opportunity to experience this unforgettable celebration of flavoUrs and festivity. Join us at Senari Seaview Restaurant, for a truly enchanting Deepavali experience.