Langkawi is a popular island to visit in Malaysia. Its sparkling white sand beaches, breathtaking views, and lush tropical surroundings make it a perfect getaway destination for everyone. 
Whether you're planning a fun family trip or a romantic escapade with your partner, Langkawi has something for everyone! 
Irrespective of the duration of your trip, this mystic island has a big list of adventures and places to see. 
Read on to see which ones strike a chord with you and keep them jotted on your notepad before you plan the trip!
1. Telaga Tujuh Waterfalls
Located in the northwest of Langkawi, The Telaga Tujuh Waterfalls is a majestic, stunning formation of natural pools. The seven waterfalls here come from one single source – Mount Mat Cincang. 
Take a dip in the water or head to the two viewing points to enjoy the enchanting landscapes. According to locals, you might just meet a fairy or two in this mystical paradise.
2. Eagle Square


Pic source: Langkawi Development Authority
Also known as Dataran Square, this is one of Langkawi's landmarks. Shaped like an eagle with a 12 meter tall Eagle statue, it's one of the must-take-picture spots on this island. 
Take an evening stroll or enjoy a lovely morning here watching the ferries dock at the harbour. You've not visited Langkawi till you've visited Eagle Square. 
3. Black Sand Beach
Another interesting spot to visit is the Black Sand Beach located southwest of Tanjung Rhu. 
According to local folklore, the sand turned black when a mermaid cursed the beach when her ring was stolen by a fisherman centuries ago. While this story is fascinating, this beach is actually a peaceful one.
4. Kilim Nature Park mangrove forest
If you love nature, Kilim Nature Park is the perfect place for you. The mangrove forest here is over 100 square meters. Take the eco-friendly tour to spot brown eagles, macaque and lizards as well as numerous other flora and fauna that make this place their home. 
End your day at the floating restaurant nearby where you can have a leisurely dinner in the evening.
5. Hike up Gunung Raya
Love going off the beaten track?
Love the cool, crisp mountain air? If yes, then you will enjoy hiking up Gunung Raya, the highest peak in Langkawi at 881 meters. 
It's perfect for an early morning or evening hike. Enjoy the breathtaking views and take lovely pictures of the amazing landscape. You may even be lucky enough to sight eagles, hornbills, squirrels, macques, and flying foxes. 
If hiking is not your cup of tea, you can opt for the 30-minute scenic drive to the top of Gunung Raya. Stop at the lookout points to enjoy the view of the Andaman Sea and neighbouring islets. 
Another way to reach the top of Gunung Raya is via the 4,287 steps though this will take you about five hours and you might find yourself having pretty wobbly legs the next day! 
6. Pulau Tuba Island
If you want something that is unique, rent a motorbike or take a day tour to Pulau Tuba Island. This remote island is known to locals for its plants and wildlife. 
Explore this glorious island inside Langkawi island and have fun soaking up the heritage of the village here. The journey from Kuah Jetty to Pulau Tuba Island is about 20 minutes. 
7. Galeria Perdana Museum
The Galeria Perdana Museum was founded by Dr. Mahathir Mohamad, Malaysia's fourth and seventh Prime Minister. The museum is home to the many gifts he received during his tenure in office. 
Besides the museum displays, the handcrafted design and high ceilings make the building an architectural delight. Spend a lazy afternoon here if you're not up for anything adventurous.
8. Mahsuri's Tomb and Museum
One well-known legend of Langkawi Island is about Mahsuri, a beautiful woman who was envied for her grace and elegance. It is said that Mahsuri cursed the island for seven generations when jealous villagers sentenced her to death. 
Visit Mahsuri's tomb and learn more about her story as you explore the museum dedicated to this legend.
9. Air Hangat hot springs

Pic Source: Langkawi Development Authority
Translated as 'Hot Water' the Air Hangat hot springs are supposed to have healing properties. Head to these saltwater springs to unwind and relax after all the walking and trekking. Dip your legs in the springs to revive your tired limbs. 
You can also opt for one of the multiple spa centres here or rent an open-air jacuzzi if you want your privacy.
10. Paradise 3D Museum
If you have kids, this is one of the must-visit attractions in Langkawi. The Paradise 3D Museum is home to three-dimensional art. Take fun, interesting and quirky pictures as you explore the different themes and over 200 amazing art pieces in this museum. 
11. Langkawi Skycab Cable Cars
If you've only got a couple of days of vacation, the Langkawi Skycab Cable Cars are not to be missed. You'll get to see panoramic views of the island as you take this adventurous ride. Shop for souvenirs at the surrounding shops to remember your trip and enjoy local food at the stalls and restaurants nearby.
12. Langkawi Sky Bridge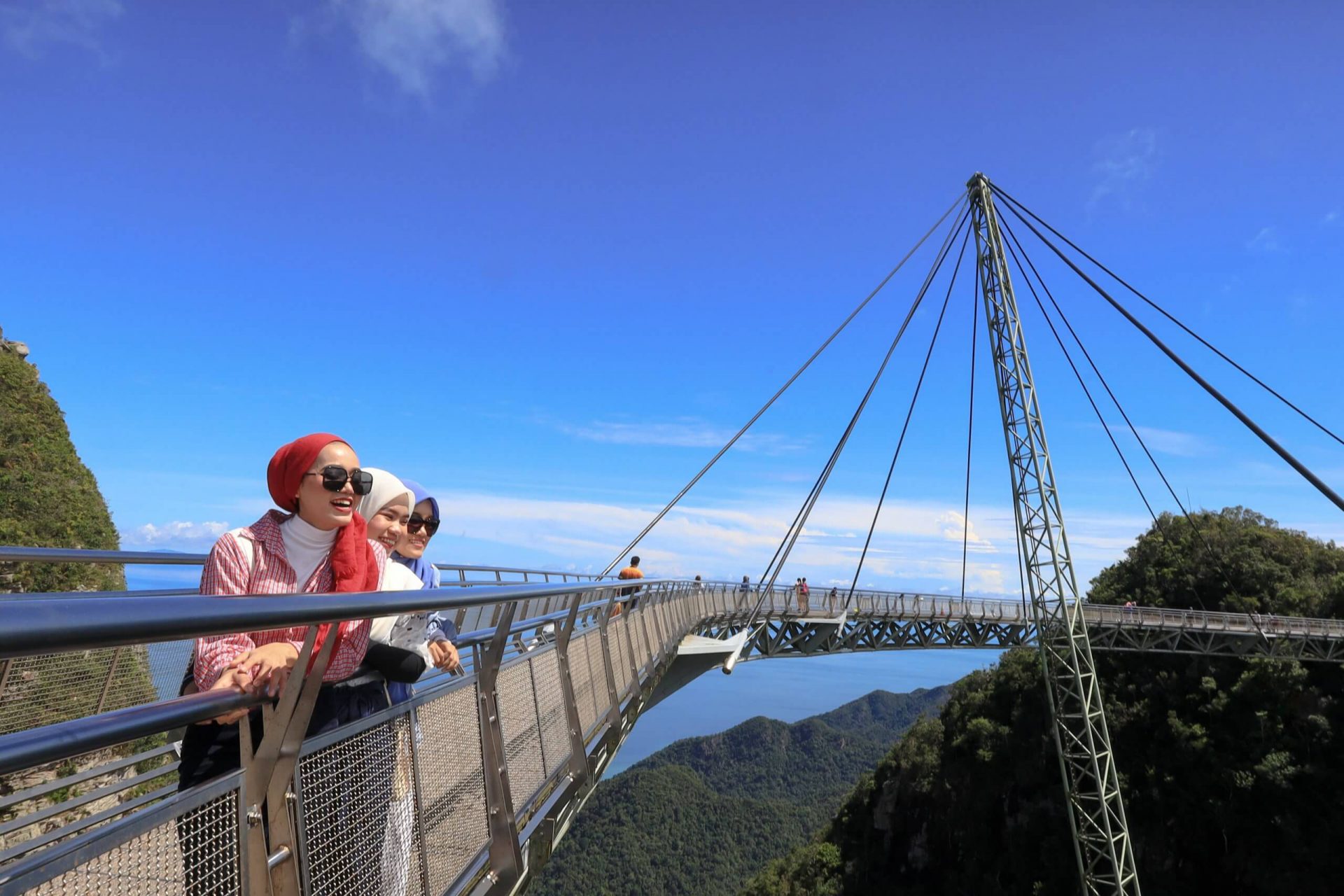 Pic Source: Panorama Langkawi Skybridge
You'll disembark the cable cars at the Langkawi Sky Bridge. At 2,300 feet above sea level, the sky bridge can be scary if you're afraid of heights but totally worth it for the unobstructed views of almost the entire island. 
You can even see as far as Thailand's Tarutao Island from the sky bridge's observatory deck. Don't forget to take a picture or two when you're here to immortalize this unforgettable experience. 
13. Oriental Village
The Oriental Village is a melting pot of Asian cultures. Enjoy music performances, martial arts and even jugglers as you explore the village. Enjoy local cuisine, get local artists to paint your portraits and end the day by learning about traditional Malaysian games such as kite flying.
14. Crocodile Adventureland

Pic Source: Crocodile Aventureland
The Crocodile Adventureland is all that its name suggests. Home to numerous crocodile breeds including the Guinea Crocodile and Tomistoma Crocodile, you and your family will be able to learn all about this reptile through fun, interactive activities. 
Call ahead to find out about the timing for the crocodile show. Just remember not to get too close to these fearsome reptiles!
15. Underwater World Langkawi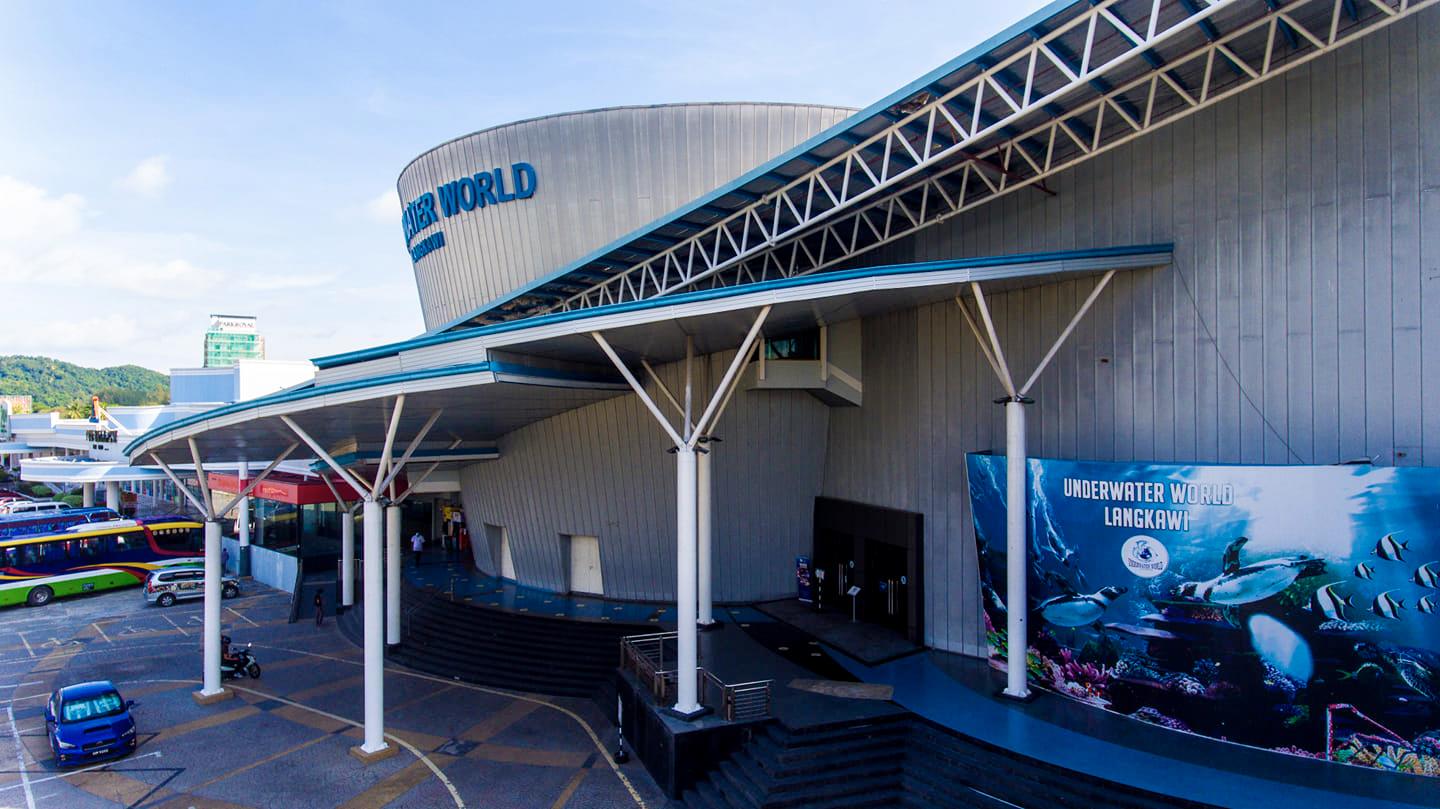 Pic Source: Underwater World Langkawi Facebook
If you love marine animals, then the Underwater World is the place for you. Covering almost six acres, Underwater World Langkawi is located at the end of Pantai Cenang, and right beside the duty-free shopping centre. 
It is home to over 200 species of freshwater and saltwater fish. You'll also get to see rockhopper penguins, harbour seals, sharks and the humongous Amazonian arapaima. 
Walk through the underwater tunnel to experience sea animals swimming around you. When you get tired, stop by the cafeteria to refuel. 
16. Langkawi Wildlife Park
The Langkawi Wildlife Park is a tropical garden home to over 150 bird species. You'll be able to see eagles, hornbills, flamingos, owls, and toucans at this five-acre sanctuary. 
Open daily, the Langkawi Wildlife Park is the place to go if it's raining. You'll also come across souvenir stores, duty-free shops and even a crystal store when you're here. 
17. Pulau Payar Marine Park
Whether you're a diving enthusiast or just want to have some fun snorkelling, head over to the Pulau Payar Marine Park. Located about 30km south of the island, you can take a speedboat or catamaran to get there. The journey will take about 45 minutes.
This marine park actually comprises four islands and spreads two nautical miles – Pulau Payar, Pulau Kaca, Pulau Lembu and Pulau Segantang. These islands are regulated by Kedah's Fisheries Department.
18. Lagenda Park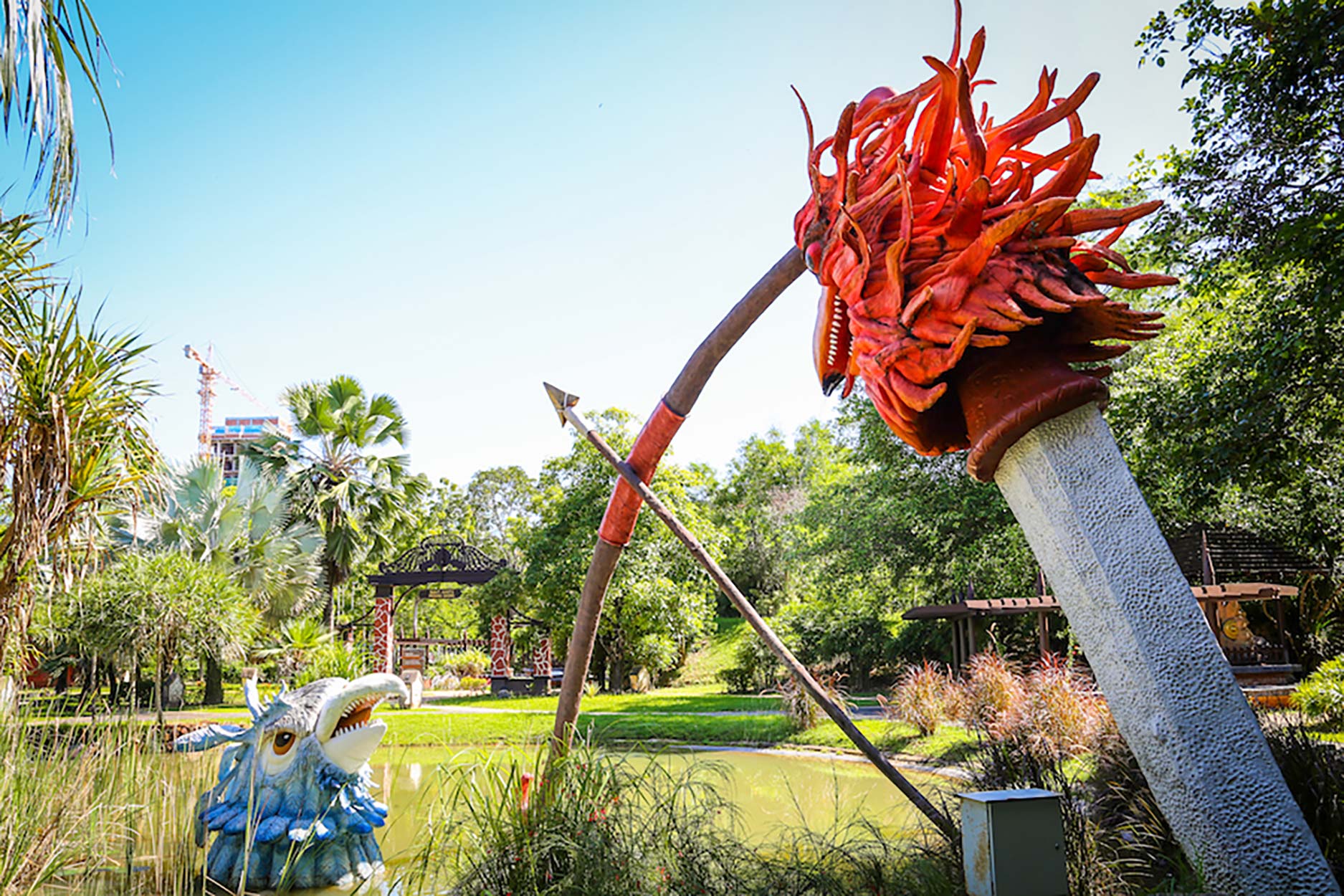 Pic Source: Langkawi Development Authority
Just beside the Kuah Jetty is the Lagenda Park. Filled with landscaped folklore, this open-air garden museum captures the myths of this island. You'll learn about mythical birds, beautiful princesses, evil ogres and heroic giants as you explore this 50-hectare compound.
19. Langkawi Zipline Adventure
Located only two minutes from Langkawi's Skybridge, the Langkawi Zipline comprises 12 ziplines up to 200 meters in length. Zip over the Telaga Tujuh Waterfalls and enjoy amazing views of the Andaman Sea as you zip. 
Whether you choose a solo or double zipline, you won't forget this flying adventure. 
20. Hit the beaches
What's a trip to Langkawi without heading to the beautiful beaches? Check out the following beaches while you're here:
Datai Bay

– Home to some of the best resorts in Langkawi, Datai Bay is close to the Crocodile Farm. Enjoy an evening stroll here as the sunsets. 

Tanjung Rhu

– The crystal clear waters and white powdery sand makes this beach the perfect spot to spend a relaxing day. Contemplate your life as you unwind.

Pantai Tengah

– Translated as 'middle beach', Pantai Tengah gives you some good dining places and nightlife. 

Pantai Kok

– This beach is the place to go if you're looking for a peaceful spot. 

Pantai Cenang

– As one of the busiest beaches in Langkawi, you'll find numerous cafes, restaurants, and shops here. It's just a 10-minute drive from the airport.

Tengkorak Beach – This spot is never too crowded so come here for some tranquil, private time.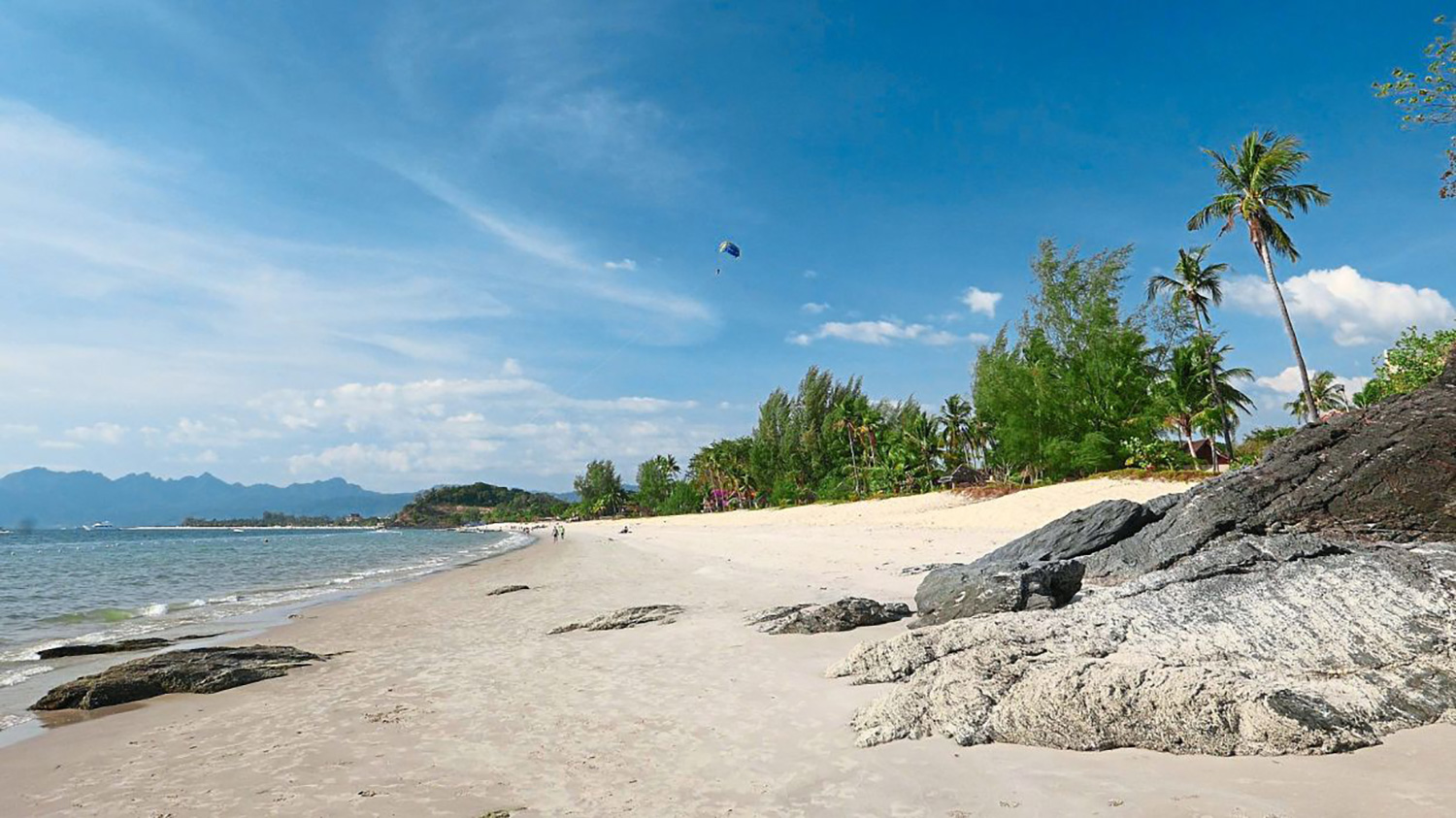 Pantai Cenang Beach
Pic Source: The Star Malaysia
Conclusion
Whether you're here for your honeymoon or on a summer vacation with your family, Langkawi has something for everyone. 
Soak in the culture and local vibes, do something adventurous and unwind by the beautiful beaches while you're here. You'll be rejuvenated and may just plan a trip back to this mystical island.